News
Welcome Home to Pictou County Guide
Details

Published: Wednesday, 16 December 2020 14:45
The "Welcome Home to Pictou County Guide: A community guide to the place we call home" was created through a partnership between Healthy Pictou County, the Destination Eastern and Northumberland Shores Tourism Association (DEANS), the Pictou County Regional Enterprise Network (REN), and the Pictou County Chamber of Commerce. It was also designed and printed locally by Advocate Printing. Funding was received from the Province of Nova Scotia for a large portion of this project, and we are excited to have it completed.
This guide is a wonderful piece for people considering our area, those new to the area, and even those who grew up in Pictou County. Take a look, you might just find something new!
Stop by the local Pictou-Antigonish Regional Library branches to view a hard copy of the guide they will have on reference or visit the Healthy Pictou County website for more information and to view the electronic version (also available below). Any questions or details on ordering your own print run, please email Nicole LeBlanc.
Welcome Home to Pictou County Guide: a community guide to the place we call home
Winter Parking Regulations 2020-2021
Details

Published: Friday, 11 December 2020 14:25
Whereas due to the congestion on the streets and highways in the communities of New Glasgow and TrentonWhereas due to the congestion on the streets and highways in the communities of New Glasgow and Trentoncaused by vehicular and pedestrian traffic and the limitation on the free use of the streets liable to be caused bythe presence of snow and ice thereon and notwithstanding that certain traffic signs have been erected in thesecommunities prohibiting or permitting vehicles to park or stand upon any street during the hours statedthereon:
(a) No person shall park or leave standing any vehicle upon any street in these communities between thehours of 01:00 a.m. and 07:00 a.m. of the same day.
(b) No owner, driver or person having control or custody of any vehicle shall between the1st day of December, 2020 and the 1st day of April, 2021, park or leave unattended by a person authorized tomove and capable of operating the same upon any street in the above manner as to hinder,inconvenience or prevent removal or snow or ice from such highway or street.
(c) No owner, driver or person having control or custody of any vehicle shall during the period from onehour after any snow storm has commenced to two hours after such snow storm has stopped, park thevehicle if it is unattended by a person authorized to move and capable of operating the same, upon anystreet in these communities.
Nothing in the foregoing shall apply to:
1. A motor vehicle of a physician or surgeon parked reasonably near his/her office or residence andimmediately available for professional calls.
2. A motor vehicle parked by a physician or surgeon who is actually engaged in his/her professionaloccupation and reasonably near where he/she is so engaged.
3. A motor vehicle parked by an operator who is actually engaged in discharging his/her duties as a PoliceOfficer or a member of the police or the armed services.
4. A motor vehicle parked by an operator who is actually engaged in discharging his/her duties as amember of a Fire Department.
5. A commercial vehicle parked by an operator for the purpose of loading or unloading merchandise.
6. A motor vehicle belonging to a public utility company or corporation parked reasonably near theresidence of an operator and immediately available for emergency calls.
It shall be an offence for any person to fail to comply with these regulations and such person will be liable to apenalty as provided by Section 293 of the Motor Vehicle Act.
No person shall remove or permit to be removed snow or ice from a property onto a public street, sidewalk orother public place.
Businesses are reminded that it is your responsibility to remove all snow and ice from the sidewalk abutting their property including the street corner.
Your cooperation is essential for the safety of all pedestrians particularly school children and senior citizensduring the winter months.
Chief Stephen Chisholm
TRAFFIC AUTHORITY
Town of New Glasgow & Trenton
Mountain Biking Trail Work Approved for Trenton Park
Details

Published: Thursday, 10 December 2020 12:14
TOWN OF TRENTON – PUBLIC NOTICE
Re: Mountain Biking Trail Work Approved for Trenton Park
In July 2020, the Town of Trenton approved a Memorandum of Understanding with the Mountain Bike Trail Building of Pictou County (MTBPC). The MTBPC entered this agreement with an interest in promoting opportunities for multi-use outdoor recreation trails used for mountain biking, hiking, snowshoeing, walking dogs and by those just looking to enjoy nature. Both parties have agreed to work cooperatively on the maintenance of existing trails and the development of new trails within Trenton Park.
A summary of the trail work proposed includes:
brush and debris removal from all Category 3 trails
reroute section to remedy environmental issues
support Town staff in completing trail maintenance to fix environmental issues on Category 2 trails
construction of a connector and outside loop for phase one of trail expansion.
For the safety of the public, if you come across trail work being done by the MTBPC at Trenton Park please do not interfere as the work has been approved. All participants in this trail work will be required to undergo training to learn safe work practices, expected trail construction standards and will only be allowed to use tools they are both trained and deemed qualified to use.
The Town has not entered into this agreement lightly and has been working with the MTBPC to ensure this is the right decision for Trenton Park. The Park currently has trails that are both impassable and dangerous to the public and cause areas of concern to the Town. This agreement with the MTBPC offers the Town the opportunity to improve the use of the Park rather than letting it be neglected. We are both excited to see this trail work beginning and thankful for the MTBPC for volunteering their time and expertise to make this extensive work possible for Trenton Park at no expense to the Town.
Trenton Minor Sports Community Centre Reopening Plan 2020
Details

Published: Tuesday, 03 November 2020 10:26
It's official - the rink will be opening for the 2020-2021 season! Although things will look a bit differently this year as we follow protocols for COVID-19, we are excited to get you back on the ice this year. Ice rentals will be available beginning Wednesday, November 04, 2020.
Reopening Plans 2020
pdf Trenton Minor Sports Community Centre Reopening Plan 2020 (395 KB)
For more information regarding rink rentals, please contact:
Darryl Marcott - Rink Manager
Tel: (902) 752-2382
Fax: (902) 752-4269

Visit the Trenton Minor Sports Community Centre section here for full rink details.
Town Meeting Registration
Details

Published: Friday, 04 September 2020 11:20
Effective September 08, 2020 - Upcoming Town Council and Committee of the Whole meetings will be open to the public.
To accommodate proper physical distancing protocols, seating for the public will be limited.
Application & Self-Declaration Form
To register your seat prior to the meetings, you must complete the pdf Town Meeting Attendance Application & Self-Declaration Form (2.05 MB) and receive an approval from the Town to attend.
The application form (above) can be completed and sent to or you can pick up a copy at Town Hall (120 Main Street) during public office hours (Monday to Friday, 9:00am to 4:00pm).
Meeting Protocols
An approval notice from the Town of Trenton is required for access to Town meetings. If approval is granted, you will be required to adhere to the following protocols:
Face masks must be worn when entering/exiting Town Hall, in the hallways, stairway & travelling to/from your seat. Once seated, you are permitted to remove your mask.
Please respect physical distancing precautions: seating has been placed to allow for 6 feet distance.
Hand sanitizer is available for use at Town Hall in the lobby as well as the Council Chambers. Please use before and after the meeting.
Meeting Schedule
Visit the Council Meetings page for full meeting schedule including any updates or cancellations.
2020 Municipal Election
Details

Published: Thursday, 09 July 2020 11:33
2020 MUNICIPAL ELECTION - TRENTON RESULTS
Updated: October 19, 2020
Election results can be found on the Elections Pictou County website.
ELECTIONS PICTOU COUNTY
Municipal Elections will take place in Nova Scotia on October 17, 2020.
For more information for voters and candidates, please visit this special website created for Elections Pictou County: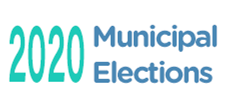 The Nova Scotia Federation of Municipalities also has a website dedicated to the election which you can visit by clicking here.
INFORMATION FOR CANDIDATES
Nominations for the the 2020 Municipal Election are now closed.
Visit Elections Pictou County and our "Become a Member of Council" page if you're interested in learning how to run in a municipal election.
TRENTON ADOPTS ELECTRONIC VOTING FOR MUNICIPAL ELECTION 2020
The Town of Trenton has decided that only electronic votes will be cast for the fall municipal election in 2020.
Municipal elections in Nova Scotia are scheduled to take place on October 17, 2020 and with the uncertainties surrounding COVID-19 and the likelihood that social distancing restrictions will continue, Trenton Council voted 3-2 in favour of eliminating paper ballot voting for the 2020 year.
Concerns were raised that residents may not have the ability to vote electronically without access to the internet or the knowhow to use such technology. However, voting can be done over the telephone. There will be an accessible polling station and help desk set up at the Trenton Rink Annex on election day for residents requiring assistance in casting their votes electronically only. From October 05 to 17, residents will be able to cast their votes electronically or by telephone 24 hours per day.
This decision has been made for the 2020 election only, for the health and safety of all Town of Trenton residents. Eliminating paper ballots will assist in reducing the number of election workers and polling stations required as well as the need to gather in large crowds on election day helping to reduce the spread of COVID-19.
TO VOTE BY INTERNET OR TELEPHONE
pdf Revisions to the Primary List of Electors 2020 (32 KB)
pdf Voter Card Information (256 KB)
pdf Vote at the Library (158 KB)
A letter will be mailed by late September to those electors who are registered on the voters list.
There you will find your pin # along with instructions on how to complete the process.
A help desk will be set up in the returning office to assist with any questions an elector might have concerning the process.
Help Desk: 1-833-901-1990
In order to be eligible to vote in the Oct. 17, 2020 municipal elections:
Electors must be:
18 years of age on or before October 5, 2020
a Canadian Citizen on or before October 5, 2020
ordinarily resident in the Province of Nova Scotia for six (6) months on or before the first day of voting by internet or telephone which is October 5, 2020
ordinarily resident in the municipality on or before the first day of voting by internet or telephone which is October 5, 2020
RETURNING OFFICER
Anyone who has moved, name change or has turned 18 should contact the returning office.
If you have questions or require assistance, contact the Returning Officer for the Town of Trenton:
Josephine MacDonald, Returning Officer
Tel: 902-485-2248
Email:
INFORMATIVE LINKS
Your Vote Matters - Visit YourDecision.ca
Local Info for Voters & Candidates - Visit Elections Pictou County
Town of Trenton Public Notice: Re-opening of Town Hall
Details

Published: Wednesday, 27 May 2020 09:46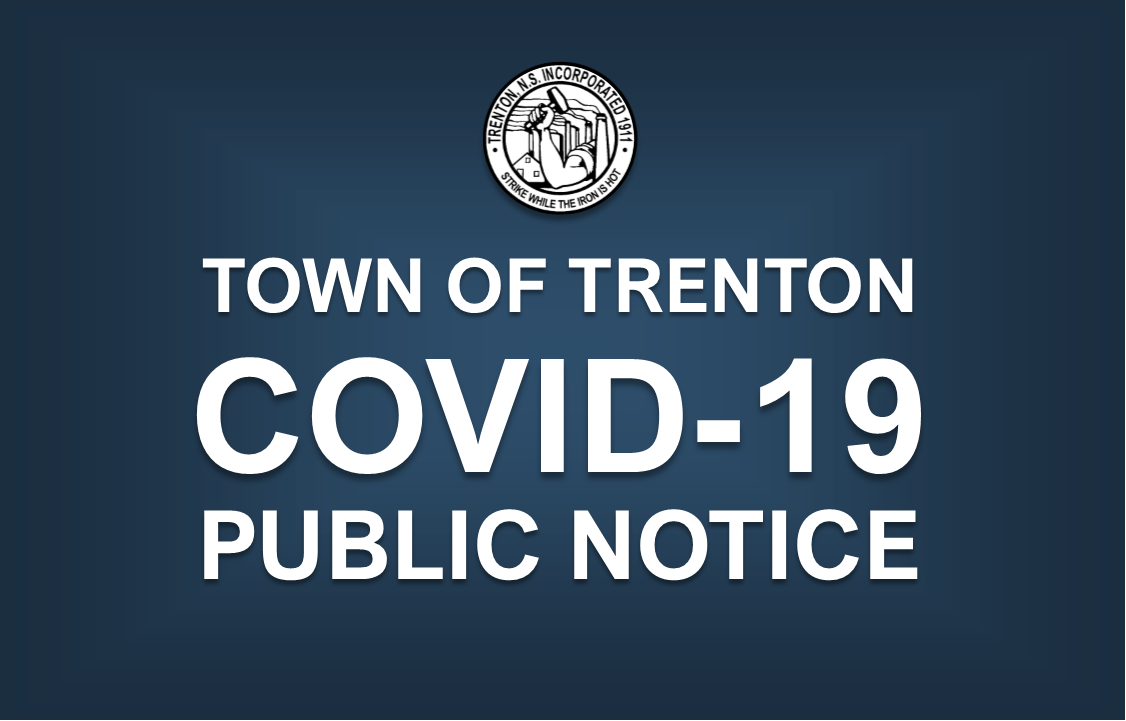 Update Effective: Monday, August 24, 2020
The Town of Trenton Town Hall re-opened to the public effective Monday, June 01, 2020 with adjustments to adhere to proper social distancing protocols and ensure the safety of Town staff and residents. Effective, August 24, 2020, the public office hours have been extended:
PUBLIC OFFICE HOURS
Monday to Friday - 9:00am to 4:00pm
While Town staff are currently on site working regular hours (Monday to Friday - 8:30am to 4:30pm), the office will be open to the public between 9:00am to 4:00pm for payment purposes ONLY. For any questions or concerns, please contact the Town Hall by calling 902-752-5311 or review the Staff Directory.
OFFICE PROTOCOLS
The following protocols will be enforced for anyone entering Town Hall. No exceptions permitted.
Face masks will be REQUIRED for entry to Town Hall effective July 31, 2020. Anyone entering without a face covering will be denied service.
Only TWO (2) residents will be allowed in Town Hall at a time. This includes members from the same household. Whenever possible, please select ONE (1) family member to enter the Town Hall.
The doors will be unlocked during the public office hours. During this time you may use the automatic door opener to enter the building to reduce touching of the door handles.
Once inside the office, you may approach the front counter. If there is already a resident at the counter, please adhere to proper social distancing by waiting at the designated spot for your turn. Staff will disinfect all surfaces after each resident.
For your own safety & that of Town Staff, we recommend both gloves and a face mask to be worn when entering Town Hall.
If your business will require a signature, we recommend that you bring your own pen to use. We will have pens readily available.
If you need to use the debit/credit machine, use the tap option whenever possible.
An automatic hand sanitizer dispenser is located to the left of the front counter inside Town Hall. We recommend you use this, as necessary.
The public washroom is currently unavailable.
Access to the Planning & Development Department, located upstairs at Town Hall, will be by appointment ONLY. No walk-ins will be permitted. Please call ahead to set up an appointment.
OTHER PAYMENT OPTIONS
There are still payment options available without the need to enter Town Hall. We ask that if any of these options are possible for you, please consider not coming to Town Hall.
Online Banking
Login to your online banking account
Choose to Add Payee / Add Bill / Add Bill Payment (option provided will depend on your banking institution)
Select Account Type: Town of Trenton Water or Town of Trenton Taxes (if you cannot find the account with these specific names, try searching the word Trenton & select the correct account from the populated list)
For water payments, use your Utilicode Number found on your water bill. Your account number is 8-digit numbers only (12345678). You do not need to include the decimal (.00) at the end of Utilicode.
For tax payments, use your Municipal Account Number found on your tax bill. Your account number is 8-digit numbers only (12345678).
You will also notice a customer code on your bills which has letters & numbers (NAMEA001) - do not use this customer code for online banking.
Bank Payments
Your water & tax bills can be paid at your banking institution. Just take your bill to your bank (or have your account number available and the amount you wish to pay), and they will transfer the payment from your account to the Town.
Cheques or Money Orders
Payments should be made out to the "Town of Trenton" and mailed to:

Town of Trenton
P.O. Box 328
Trenton, NS B0K 1X0

State your Utilicode for water or Municipal Account Number for taxes on the front of your cheque or include the bill stub (bottom portion of your bill). If you require a receipt, ensure you have checked off "Request Receipt" on the bill stub.
Credit Card
The Town now accepts Visa and Mastercard and can do so over the phone. You must have your card number, expiration date and security code (located on the back of your card) available. For the safety and security of residents' personal information, your credit card information will only be taken from staff in the Town Hall and will be destroyed after the approved payment has been taken. Your card information is not kept on file. If you require a receipt, one can be sent to you following the payment.
If you require assistance in finding your account number or balance, please contact Town Hall at 902-752-5311 during regular business hours.
We will continue to share updates and information regarding COVID-19 on the Town website and Facebook page. We are asking all residents to follow guidelines set by the Government of Nova Scotia and NS Dept. of Health & Wellness by following proper social distancing, be cautious of what information you share and be weary of unfounded claims on social media. The most accurate and up-to-date information regarding Covid-19 can be found online from the Province of Nova Scotia at https://novascotia.ca/coronavirus. We appreciate your continued participation and understanding.
Town Administration
REMO Pictou County Notices
Details

Published: Monday, 30 March 2020 13:59

REMO - Regional Emergency Management Organization Pictou County
REMO Pictou County is made up of representatives from six local municipal units who are working collaboratively under a provincial approved emergency management plan to deliver essential services to all Pictou County residents during emergency situations.
Please visit the REMO Pictou County Facebook Page for current updates & notices.
PUBLIC NOTICES
pdf Government of Canada connects Canadians with mental wellness supports during COVID-19 (April 16, 2020) (54 KB)
image NS Health Authority - Mental Health and Addictions: Program Update (April 15, 2020) (328 KB)
pdf Shop Responsibly: Province urges everyone to use common sense when shopping for groceries or essential items (April 07, 2020) (279 KB)
pdf Interim primary care access clinics established in Truro and New Glasgow for people without a family practice (April 03, 2020) (183 KB)
pdf Hefty fines will be issued for people who don't heed social distancing rules (March 31, 2020) (175 KB)
pdf Nova Scotia Health Authority - Coping with COVID-19 (181 KB)
pdf Precautionary measures for taxi & community transportation operations (March 31, 2020) (122 KB)
pdf Be Aware of Scams related to COVID-19 Crisis (March 31, 2020) (106 KB)
pdf Minister of Education and Early Childhood Development's Message to Families (March 30, 2020) (58 KB)
pdf Trails provide a place to exercise, not socialize (March 30, 2020) (148 KB)
Please note that all trails in the Town of Trenton are currently closed including those at Trenton Park & the Smelt Brook Trail.
pdf Waste, recycling and compost collection services continue to be offered in Pictou County (March 29, 2020) (127 KB)
pdf Dr. Strang Letter to Nova Scotians (March 26, 2020) (154 KB)
pdf FAQs to support the Public Health Protection Act Order (March 26, 2020) (159 KB)
pdf Community Resources in Pictou County (137 KB) ,
REMO Newsletters
Resources for Awareness
Government of Canada Resources
Employers and Community Groups Fact Sheet
Individuals and Families Fact Sheet
Prevent the Spread of COVID-19
Information on How to Self Isolate
Information on Social Distancing
Building Inspection Protocol
Details

Published: Monday, 23 March 2020 12:29
Building Inspection Protocol
Regarding current concerns during COVID-19 social distancing and sanitization recommendations, this protocol for performing building inspections is effective immediately.
- All inspections will be booked a minimum of 2 days out to ensure maximum grouping of inspections and to control and limit defined inspection days.
- All interaction regarding inspections, documentation, booking, review, etc., where and when possible, will be conducted electronically, digitally and/or by phone. All such correspondence to be strictly through devices provided or preapproved by the Town.
- All inspection sites will be required to be vacated at the time of inspection. If required and only by prearrangement with the inspecting official, a maximum of one (1) other individual may be allowed on site at the time of the inspection. Social distancing procedures as recommended by the Federal and Provincial Health Authority's shall be observed. On site refers to the physical building being inspected and not necessarily the property where social distancing can be practiced safely.
- Any inspection site that is "occupied" with or without a permit, will have inspections deferred indefinitely. Exceptions in extenuating circumstances may be permitted only by special arrangement through the official.
- The following questions will be asked when arranging for an inspection:
1) Has anyone who has been on site traveled out of the province in the last 14 days?
2) Is there anyone who has been on the site currently in self or imposed isolation?
3) Will the site be empty and if not, who will be there (maximum 1 person).
- An affirmative response to any of the above questions is an automatic indefinite deferral of the inspection. All deferred inspections are to be logged and will take precedent when this protocol is no longer in place.
Thank you for your co-operation and understanding.
Emily Lutton
Building Official & Fire Inspector
Trenton Park Redevelopment Initiative Update
Details

Published: Friday, 21 February 2020 10:07
TRENTON PARK REDEVELOPMENT WORK REACHES EARLY MILESTONE
Trenton, NS – The redevelopment of Trenton Park has reached a major milestone, in awarding the design work phase to Glenn Group Landscape Architects and Park Planners.
The successful contract notification took place in February 14, after a public tendering process, through the Town of Trenton in the amount of $216,140.00 plus applicable taxes.
"We're thrilled to see this incredible project for the community officially underway with the beginning of formal design plans. We know that people are really excited to see the work start in the park, and the design phase is a big milestone for this redevelopment project," said Mayor Shannon MacInnis. "We will be working closely with our project manager and council as this redevelopment project comes to fruition and look forward to what this will add and bring to our community."
The project has seen support from all levels of government, with $2.2 million from the federal government, $1.2 million from the province of Nova Scotia, and $254,518 from the Town of Trenton, Town of New Glasgow, Town of Pictou, the County of Pictou, the Town of Stellarton and community.
"We are thrilled to have this company selected and start the formal plans for the project," said John Charlton, Project Manager overseeing the redevelopment project. "Park users may start to see activity on-site as early as this spring, and we're working towards final completion of the project in summer of 2021."
Once complete this universally accessible, high-quality parkland will serve as a signature destination within our community offering residents a wealth of outdoor recreation activities and opportunities. Redevelopment plans include many new additions to the park including a large and exciting playground, seating, signage, shade shelters, refurbished pool, picnic areas, splash pad, fenced dog park, washrooms, trail remediation, and additional, upgraded parking facilities. Once restored and modernized, Trenton Park will provide a safer, accessible, and more welcoming environment to ensure the widest use possible and participation by people of all ages.
The fundraising and redevelopment project was initiated by the Hemlock Group, a volunteer group of engaged citizens looking to create an outdoor recreation space for all of Pictou County and beyond.
For more information on the plans, click here to visit the Hemlock Group website.